Webinars – Implementing BIM Level 2 using ISO 19650
We will take you through implementing BIM Level 2 using ISO 19650 throughout three informative videos. They will cover the concepts & principles of moving your design & construction information to a digital process.
We will use ISO 19650 as the context for transforming your design or construction business in 2020. Jonathan will explore how you can move your business towards a BIM Level 2 standard for design & construction companies by understanding at a high level the terminology, workflows & processes associated with a BIM level 2 project.
In the final webinar we will dive into Autodesk workflows to support meeting ISO 19650 standards for BIM Level 2 projects.
Wish to develop your BIM strategy further?
We'll provide you with the tools, training and advice. Some of our BIM Services we offer can be found here
Contact Us
Need more information?
If you have any questions, we would are happy to help.
Who will benefit from watching these ISO 19650 webinars?
These webinars are aimed to inform Architects, Engineers & Contractors how to implement BIM Level 2 in their business.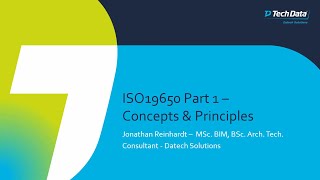 ISO19650 PART 1 – Concepts and Principles
In the first webinar, we will introduce the high level concepts & principles seen in the ISO19650 series.
We will cover why does the management of information matter, the rationale for ISO 19650, high level implementation principles, explaining the information requirements & delivery.
Furthermore, introducing Concepts of managing information practically and explaining the National Annex document is also covered..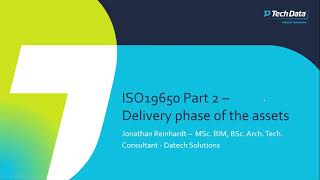 ISO19650 PART 2 – Delivery Phases of the Assets
In this webinar we will cover the information management processes required when delivering a project to BIM Level 2.
This will build on the concepts introduced in our first webinar going in-depth into the common data environment, naming conventions and approval workflow principles.
We will look at information requirements in relation to the OIR, AIR, PIR, BEP, AIM & PIM deliverable's on a BIM Level 2 project.
In this final webinar, Jonathan Reinhardt will focus on the Autodesk tools and software to support you in meeting A BIM Level 2 or framework project.
In managing your Common Data Environment (CDE), controlling user's access permission, approval workflows for documents & drawings, QA/QC checklists & workflows, coordinating with project stakeholders, design team, and clients. As well as meeting asset data requirements and sharing information throughout the design & construction stages of projects.
Contact Us:
If you have any questions or would like any advice regarding journey through BIM, feel free to provide your information and a specialist will contact you shortly.
Contact Us