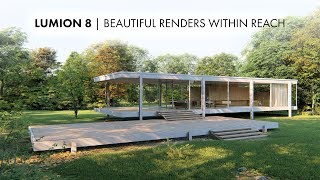 Lumion 8 empowers architects to quickly create unbelievable renders.
Just press the Styles Button and instantly create a beautiful render from your design. Open the Sky Light daylight simulator, cast finely detailed shadows and watch as your design becomes remarkably photo-realistic.
You'll be making renders faster than ever, capturing your designs in the best possible light.
Lumion 8 – What's New
From new technologies enhancing light, shadow and workflow, to hundreds of new objects and material options, Lumion 8 makes it easier than ever to lift the sense of environment, realism and depth in your design.
Below are just a few of the new features in Lumion 8 that'll take your rendering to whole new heights. For a complete look at what's new, head on over to our What's New page.
Styles
No more hunting around for the right effects. Gone are the days of meticulously balancing sliders. Once you dress up your 3D model with Lumion materials and objects, just click the Styles Button and select an interior or exterior style. In an instant your design becomes a beautiful render with a carefully balanced effects combination.
Sky Light daylight simulator
Sky Light is an advanced, daylight simulator for softening & dispersing a scene's environmental lighting. Used in combination with Soft and Fine Shadows, it strengthens the real-life interplay of these elements.
Watch as the foliage and trees become photorealistic, and discover as people, buildings and landscapes suddenly look like they belong where they are.
Soft and fine shadows
Designing realistic shadows, whether from scratch or in a rendering program, may be one of the most difficult things you can do. Until now.
In Lumion 8, you can inject realism into your render by turning on the Soft Shadows and the Fine Detail Shadows as part of the Shadow effect. Instantly, the shadows become softer, the penumbras grow. Hundreds of fine detail shadows are enriched and a realistic sense of depth permeates the image.
Soften hard edges (Pro only)
In real life, the edges of any surfaces generally appear slightly rounded or worn. They are never perfectly sharp. With the new edges slider in Lumion 8, your model will take on a more natural and weathered look, one better representing the real qualities of physical homes and buildings. Impart age and realism by smoothening the edges of adjacent faces. Soften the corners of brick, concrete, wood and other materials.
Controlled with a simple slider movement, Lumion's Soften Edges feature makes creating a more realistic building. Easy. Effective.
Availability
Lumion 8 is available now.
For more information and prices please click the link below.
Find Out More